By Shraddha Bhandari
In 2023 – the Middle East will continue to be an area where political disruption and conflict trends will collide with economic incentives for rapprochement and stability. A new right-wing government in Israel, besieged Iranian regime, Turkey in its election mode, and Russian diversion in Ukraine will complicate conflicts in the region. Political and economic headwinds caused by external factors will also create governance challenges in Egypt, Lebanon, Syria and Turkey, leading to protests and civil unrest.
On the other hand, Gulf Cooperation Council (GCC) countries will emerge as venues of economic growth and push for stability to ensure FDI and talent and to preserve growing regional investments.
Continued gains from the global oil market will allow energy-rich countries to diversify and use their sovereign funds to create regional interdependencies. On top of that, Middle East will also be the region where the 'untethered' political system will play out to the fullest – mid-powers asserting independent foreign policy – challenging the existing status quo of the dollar dominance, international trade patterns and global power blocs.
Political and Economic Disruptions and Conflicts in the Region Will Have to Be Managed
In 2023 – the regional rapprochement that has been in effect, most publicly since the Abraham Accords in 2020, will be challenged by critical political developments:
In Israel, PM Benjamin Netanyahu will depend for his survival on the two ultra right-wing parties and their leaders. The action and rhetoric of the Jewish Power and Religious Zionism parties against Palestine can force Arab states to take a stand, complicating the relationship with Israel. These include a hardline on 'threats' to national security, continued Israeli settlements and a 'no tolerance' attitude to Palestinian demands. It can also lead to military confrontations on the Gazan-Israeli border and violent clashes in Jerusalem and elsewhere.
In Iran, a government already hardline enough will be further besieged by widespread protests, economic contraction and now little hope of the revival of the Iran nuclear deal. It will seek to divert from internal unrest by using external powers as scapegoats, most notably Israel, the US, and its Kurdish allies.
In Turkey, President Erdogan will seek to protect his political position in the run-up to elections in May 2023 by crushing internal opposition, flexing his muscles in regional conflicts in Syria and Libya and challenging Greece over energy resources in the eastern Mediterranean.
Russian diversion in Ukraine could destabilize Syria, empowering Turkey to launch an offensive in the northern Kurdish area or Israel to escalate attacks on Iranian proxies.
In addition, political and economic headwinds in some countries can lead to protests and civil unrest, in some cases complicating the regional power dynamics, such as in Lebanon. External causes – Russia's war on Ukraine, U.S. federal monetary tightening, inflation and soaring energy, food and commodity prices combined with years of misgovernance will lead to a high risk of social unrest in Iran, Iraq, Syria, Yemen and a moderate risk in Egypt, Jordan and Turkey.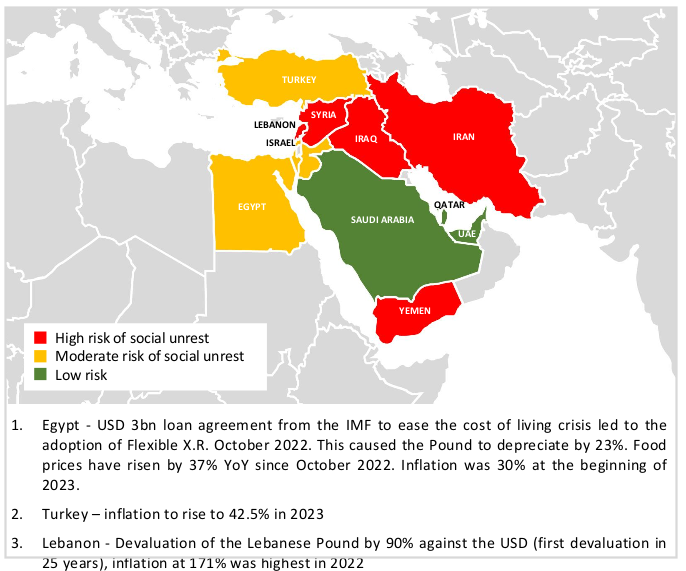 Cautious optimism as incentives for stability emerge within the GCC
So while triggers for conflict, unrest and disruptions remain in the Middle East, incentives towards keeping these localized while building economic interdependencies will emerge from some countries in the region, especially the Gulf Cooperation Council:
In the short term – windfall from high oil and gas prices will enable energy-rich GCC countries like KSA, UAE and increasingly Qatar to plough funds into sovereign wealth funds to be used for national development and foreign ventures, creating economic interdependencies across the region. Inflation will be contained in 2023 by exchange-rate pegs to dollar and fuel subsidy regime. Barring major external shocks, growth in non-oil sectors will continue, aided by liberalization and reforms/growth in some key sectors of the economy – such as modernizing legal systems and growth in travel, tourism, real estate and digital and technology spaces.

Beyond the regional dynamics – the Middle East will emerge as a region where mid-powers will seek to challenge the orthodoxies of
the US-led unipolar world order.
OPEC plus will continue to assert its independence causing rifts with the United States. Two golden rules were broken in 2022 with the energy sanctions on Russia. The West used a direct price cap on oil for the first time to achieve geopolitical aims. All sanctions in the past have been on manageable producers (Venezuela, Iran, Iraq and all with blessings of the U.S.'s Gulf allies) and mainly through cutting off flows through secondary sanctions. This power to decide the pricing by the West has caused unease in the GCC and was one of the reasons for the drastic cut in oil production in October 2022. In 2023 this tension between buyers and sellers and the U.S. and its Gulf allies will continue (though manageable) with more U.S. 'lawfare' with bills like NOPEC and Strategic Petroleum reserve and OPEC's counteractions.
This unease can also spill into the international payments system – will there be an effort by OPEC countries to trade oil in local currencies? Will this push countries like KSA to join BRICS? Some importing countries like Ghana have signaled their intention to trade oil in gold (Ghana is Africa's second-largest gold producer) to alleviate the impact of high oil prices amidst a fluctuating dollar. In addition, there are developments such as the integration of Russia-Iranian banks and talks of using stablecoin. While the dollar system remains the most pervasive trading standard, these efforts at alternative modes of payment and bilateral/multilateral arrangements can be destabilizing.
Regional powers will also seek to maintain an independent foreign policy balancing the West with China, Russia and others. This will be due to Asian countries emerging as the primary trade and investment partners for M.E. countries and the success of the OPEC plus in favorably shaping global energy markets. It will also be driven by the desire to control regional trends outside superpower rivalries.